Maximum Size : 2cm
Temperature: 20 – 28 °C.
pH: 6.4 – 8.0
Likely to feed on small invertebrates, algae and other zooplankton in nature.
In the aquarium it will accept dried foods of a suitable size but should not be fed these exclusively, and as it rarely rises to the surface there's little point in offering floating products.
Daily meals of small live and frozen fare such as Daphnia, Artemia and suchlike will not only result in the best colouration but encourage the fish to come into breeding condition.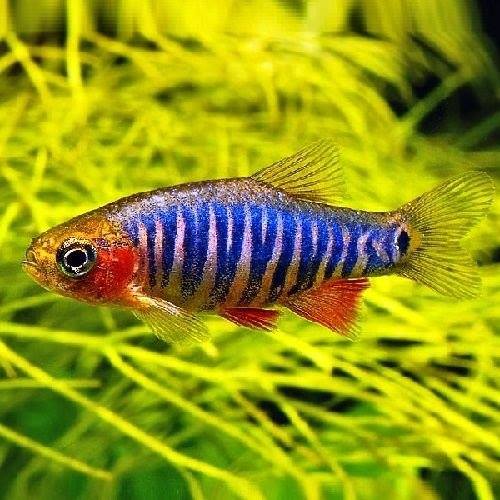 Newly-imported specimens are often in poor condition and can be difficult to acclimatise to aquarium life.
Small live foods are therefore recommended as an initial diet with dry and frozen products being introduced as the fish become settled.
Sexual Dimorphism
Adult females tend to grow slightly larger than males and be noticeably rounder in the belly, more so when gravid.
Males are more colourful, with well-defined, iridescent blue vertical bars on the flanks and red colouration in the fins.
---
DEAR SHOPPERS PLEASE TAKE NOTE :
For LIVE FISH / SHRIMP DELIVERY , please purchase ICE BOX or else we will not ship your order out.
---

Operation Hour

MON : 12pm - 3pm
TUE : CLOSED
WED : 12pm - 7pm
THU : 12pm - 7pm
FRI : 12pm - 6pm
SAT : 12pm - 7pm
SUN : 12pm - 6pm

Location : Pandan Indah , Kuala Lumpur
( 2nd Floor Unit Above HLK )

Waze / GoogleMap : Aquatic Haus

Address : 1-1D , Jalan Pandan Indah 4/1 , Pandan Indah 55100 KL